This site's brand new, and we're not quite ready to "go live", but please check back. When we're ready, we'll have plenty of sexy excerpts and fun contests with some very cool prizes. If you're not sure what we're about, check out the ABOUT page to read more about the book we worked so hard to produce for your reading pleasure.
She Shifters is ready for pre-order. I promise you will want this book in your hot little hands the moment it releases! Just click on the cover! ~ Delilah Devlin
Available July 10, 2012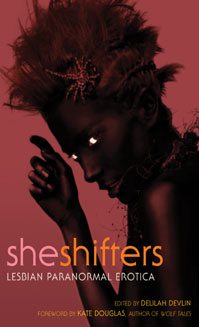 Cleis Press
ISBN-10: 157344796X
ISBN-13: 978-1573447966
Format: Trade Paperback
Pre-Order Trade Paperback
Amazon | Barnes & Noble
Books-A-Million
Indiebound
The Book Depository
Take a walk on the wild side…
Following the success of her ground-breaking GIRLS WHO BITE: LESBIAN VAMPIRE EROTICA, best-selling author Delilah Devlin and her contributors deliver another stunning collection.
Shapeshifters—beings both human and animal—ignite our imaginations with visions of primal passions and insatiable hungers. Most commonly seen as dark, masculine demons, these sixteen stories investigate shapeshifter myths from around the world, and add fur and claws to a fresh girl-on-girl blending of physical power and inescapable desires.
Embrace your wild child as you journey through worlds of unexpected delights with some of today's hottest erotic romance authors, including Sacchi Green, Christine d'Abo, Adele Dubois and Myla Jackson. Fly atop the Tower of London in Paisley Smith's "The Night Crow." In Anna Meadows' "Verde," feel the burn of a hot Mexican summer. Experience the raw lash of a dragon's tail in "Scorched Retribution," then linger in the sensual delights of a furry convention in "She's Furry Yiffy".
Prepare to be embraced inside the warm, feathered wings of a phoenix, race through a rain forest morphing from tiger to kingfisher, and watch your lover surrender her seal's pelt to walk hand-in-hand with you along a cold and lonely shore. In She Shifters, love comes running, slithering, flying—in all shapes of desire.
Delilah Devlin's one-of-a-kind She Shifters unleashes the wild creature inside us all!
"The Night Crow" by Paisley Smith
Driven by erotic dreams, a woman travels to the Tower of London where she realizes one of its famous ravens is a long-ago lover
"Verde" by Anna Meadows
A local peach-grower rescues a wounded, mythical bird-shifter, injured when it is blamed for a drought
"Nine Days and Seven Tears" by J.L. Merrow
A selkie blown off course inspires an island girl yearning for fulfillment
"Sweetwater Pass" by Angela Caperton
Westward bound, a shapeshifter on a wagon train discovers a kindred spirit in an Indian maiden
"Scorched Retribution" by Christine d'Abo
A submissive returns home after ten years to regain the heart of her dragon lover
"Thwarting the Spirits" by Michael M. Jones
A cobra and a mongoose struggle against a curse that turns lovers into mortal enemies
"She's Furry Yiffy" by Adele Dubois
A hot-bodied shapeshifter finds more than a hook-up at an X-rated Fur Con
"Totem" by Karis Walsh
A Tlingit shaman shifts through her animal spirits to win the heart of her true love
"Sneak" by Giselle Renarde
A shifter and a whore hatch a plan to satisfy a spell that demands one be a mouse
"Purrfect in Venezia" by Myla Jackson
A woman returns to the magic of Venice's Carnival hoping to reunite with her feline lover
"The Dragon Descending" by Sacchi Green
Only a girl with a fierce pirate spirit could rouse the sleeping dragon of Ha Long bay
"All the Colors of the Sun" by Victoria Oldham
After meeting a mysterious girl at the beach, a woman risks the flame of a phoenix's embrace
"The Handler" by Tahira Iqbal
Can a reclusive wolf allow her beautiful, but tough handler to protect her without falling for her?
"Bound with Bronze" by Chris Kouju
A guardian spirit clashes wills with an intriguing enemy in the Malayan rainforest
"Catnip" by Delilah Devlin
A cat-woman doll found at a garage sale reveals a lonely woman's magical destiny
"Belling the Kat" by J.L. Merrow
Two bridesmaids conspire to hide one girl's furry little tail
About The Authors
Angela Caperton writes eclectic erotica that challenges genre conventions. Look for her stories published with Black Lace and eBury Publishing, Cleis, Circlet, Coming Together, Drollerie, eXtasy Books, Renaissance, and in the indie magazine Out of the Gutter.
Christine d'Abo loves writing in the worlds of sci-fi, BDSM, and romance. By combining the elements of those genres, Christine creates the types of stories she loves to read. Christine is currently published with Ellora's Cave, Samhain Publishing, Carina Press, Berkley Heat, and Cleis Press.
Adele Dubois is an award-winning, multipublished erotic romance author and former newspaper and magazine columnist, features writer, and foreign correspondent. When not on the beach, she and her family enjoy their rural eastern Pennsylvania home, where she is currently working on her next novel.
Sacchi Green writes in western Massachusetts. Her stories have appeared in a hip-high stack of publications with erotically inspirational covers, and she's also edited or co-edited seven volumes of erotica, including Girl Crazy, Lesbian Cowboys (winner of the 2010 Lambda Literary Award for lesbian erotica), Lesbian Lust, and Lesbian Cops.
Tahira Iqbal is a UK-based writer who currently works in the film and TV industry, but writing is and will always be her first love. You can find her work, an erotic vampire short story "The Queen," in the Red Velvet and Absinthe anthology published by Cleis Press.
Myla Jackson pens wildly sexy adventures of all genres including historical westerns, medieval tales, romantic suspense, contemporary romance, and paranormals with beasties of all shapes and sizes. When not wrangling words from her computer with the help of her canine muses, she's snow skiing, boating, or riding her ATV.
Michael M. Jones is a writer, editor, and book reviewer, which often leads to interesting conversations at family get-togethers. His stories have appeared in Rumpled Silk Sheets, Like A Queen, Like A God's Kiss, Masked Pleasures, and more. He is the editor of the forthcoming Like A Cunning Plan: Erotic Trickster Tales.
Chris Kouju, a Malaysian writer, usually pens fantasy, science fiction, and an obscene amount of slashfic. Although lesbian erotica is not something she typically writes, she will lay hands on anything. Armed with a master's in creative writing, she is determined to finish her first novel in gorgeous, chilly Scotland.
Anna Meadows is a part-time executive assistant, part-time Sapphic housewife. Her work appears in six Cleis Press anthologies, including Girls Who Bite. She lives and writes in northern California.
J.L. Merrow is that rare beast, an English person who refuses to drink tea. She writes across genres, with a preference for contemporary gay romance and the paranormal, and is frequently accused of humor.
Victoria Oldham is an editor of lesbian fiction and has published erotica in Girls Who Bite, Where the Girls Are, Women in Uniform, Skulls and Crossbones, and Blue Collar Lesbians. She lives in England with her partner and enjoys tromping through ruins.
Giselle Renarde is a queer Canadian, avid volunteer, contributor to more than fifty short story anthologies, and author of dozens of electronic and print books, including Anonymous, Ondine, and My Mistress' Thighs. Ms. Renarde lives across from a park with two bilingual cats who sleep on her head.
Paisley Smith is a full-time freelance writer and can usually be found in front of her computer either writing, chatting, promoting, or plotting. It's a glamorous life…working in one's pajamas. She attended college in the Deep South, where she obtained a slew of totally useless degrees and developed an unrelenting sense of humor.
Karis Walsh is a horseback riding instructor in the Pacific Northwest. She is the author of Harmony and Worth the Risk (January 2012), both from Bold Strokes Books.