Available Now -
Three years have passed since Belle Holloway gave her heart to Alice O'Malley, the brash woman Union soldiers left on the doorstep of Belle's Georgia plantation. Now Reconstruction Era taxes threaten their home, and Belle must decide between the female lover whose touch sets her flesh and soul ablaze. Or a cold marriage to a wealthy man and an even colder bed.
In hopes of saving the plantation, Belle and Alice travel to Savannah where doors close at every turn. Until Alice tenders a scandalous proposal that could cost them everything...or offer them the love of a lifetime.
Get ready for She Shifters!
Available July 10, 2012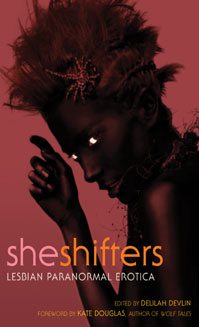 Cleis Press ISBN-10: 157344796X ISBN-13: 978-1573447966 Format: Trade Paperback
Pre-Order Trade Paperback
Amazon
|
Barnes & Noble
Books-A-Million
Indiebound
The Book Depository
Take a walk on the wild side…
Shapeshifters—beings both human and animal—ignite our imaginations with visions of primal passions and insatiable hungers. Most commonly seen as dark, masculine demons, these sixteen stories investigate shapeshifter myths from around the world, and add fur and claws to a fresh girl-on-girl blending of physical power and inescapable desires.
Embrace your wild child as you journey through worlds of unexpected delights with some of today's hottest erotic romance authors, including Sacchi Green, Christine d'Abo, Adele Dubois and Myla Jackson. Fly atop the Tower of London in Paisley Smith's "The Night Crow." In Anna Meadows' "Verde," feel the burn of a hot Mexican summer. Experience the raw lash of a dragon's tail in "Scorched Retribution," then linger in the sensual delights of a furry convention in "She's Furry Yiffy".
Prepare to be embraced inside the warm, feathered wings of a phoenix, race through a rain forest morphing from tiger to kingfisher, and watch your lover surrender her seal's pelt to walk hand-in-hand with you along a cold and lonely shore. In She Shifters, love comes running, slithering, flying—in all shapes of desire.
About The Authors
Coming 2012 From Cleis Press
Women are competitive by nature, whether they play sports or games. Women play hard and love harder. They don't just score – they keep track.
Pre Order Trade Paperback
Cymone's Dominatrix
Appolonia finished her wine and looked across the table to where another Hellene, Cymone, sat staring into her cup. Cymone. Gladiatrix prima. She dominated on the sands, knowing just how long to drag out a fight so that the crowd cheered her to victory again and again, knowing how to make a spectacle of dealing the death blow to anyone unlucky enough to have to face her. She was a true champion, an entertainer who'd risen far above her status as a slave to become one of the most celebrated gladiatrices of her time. A scar marred her olive-skinned cheek, but to Appolonia, the imperfection only made Cymone that much more intriguing, that much more beautiful. For all her prowess in the arena, however, Cymone delighted in darker pleasures of the flesh and Appolonia was pleased the gladiatrix had chosen her as her lover. Most nights, they lay in each other's arms, kissing and caressing, bringing each other release before succumbing to the god, Hypnos' spell. But on the evening before an appearance on the sands, Cymone allowed Appolonia a far firmer hand. Appolonia squeezed her thighs together in anticipation. Any moment, Cymone would rise, giving the signal for her to follow.